NewNow releases massive 20000mAh USB external battery pack, will charge two devices up to 2.1A each!
Today, NewNow announced the release of its new Lightning Bolt external USB battery pack. Featuring a capacity of 20000mAh, the Lightning Bolt is capable of charging two mobile devices simultaneously meaning that you can now charge your smartphone and tablet at the same time while on the go.
Like the other devices in its second generation Lightning Bolt line of external battery packs, the Lightning Bolt is capable of detecting what device is plugged in and then adjusting the charging rate to deliver the fastest charge speed. It works on both iOS and Android devices including Apple's iPhone 4/4s/5/5s/6/6s and iPad air, ipad mini, as well as Samsung's Galaxy devices, S5/S6/S6 Edge.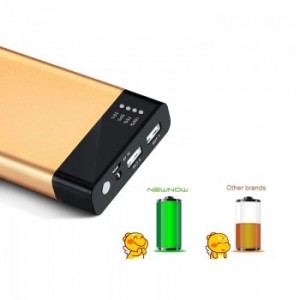 "Even with our external batteries established as the top-selling external battery brand on ebay,amazon and own shopping Mart: http://www.newnow.com, we continue to evolve and improve our product line by sticking to the basics of listening closely to our customers,"said Ge liwei, NewNow Manager. "We know people have different power needs but the same high standards for quality and design, and this Lightning Bolt offers the same innovative design of our newest Power Bank but in a more compact package. For those who desire even greater portability, never fear – we have an even smaller addition coming for you in the near future."
The Lightning Bolt is capable of charging most smartphones 4 to 5 times with a 3A charging output being split between the two charging ports. The Lightning Bolt is avaliable now on NewNow for $21.99 and is fully compatible with iPhone 5, 4S, 4; Samsung Galaxy S4, S3, Note 2; iPad 4, 3, 2, iPad Mini; Samsung Galaxy Note 10.1, Note 8; HTC One, EVO, Thunderbolt, Incredible, Droid DNA; Motorola ATRIX, Droid; Google Nexus 4, Nexus 7, Nexus 10 and LG Optimus, among other devices.