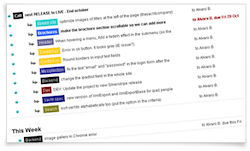 As a blogger, I often collaborate with other bloggers to complete various projects assigned to us. Most of those bloggers don't live anywhere close to me, so effective online collaboration is absolutely of the essence. I can tell you from my own personal experience that when you want to communicate with others, you definitely need to know what you are doing. In other words, collaboration can be effective as long as you have the right tools to help you with that.

My Personal Experience
For a long time now, I have been using my email as the only tool to communicate with others, but I can tell you that email is not good enough anymore to me as it is simply ineffective and outdated. When I send a message to another person who is on the same project, there are many scenarios that can happen: they can fail to notice my email when it gets buried in the sea of spam, they can respond to it partially only due to technical reasons, they can even accidentally delete my message before even reading it, etc. The possibilities here are endless. I already gave up on the communication via email in favour of communication via the so-called workspace on Glasscubes and I want to tell you why this is the case.

What is a Workspace?
In a nutshell, a workspace is nothing else but a secure online area where you can go and invite other people such as your coworkers, bloggers or all those with whom you need to collaborate regularly to join you. You can do all sorts of things in your workspace like sharing your files with others, managing projects, assigning tasks and even starting discussions and organising schedules. Thanks to Glasscubes, you can have a few workspaces at the same time each one belonging to a different project you are on.
Some of the Best Features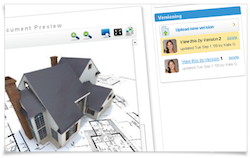 There are several features I liked a lot while creating my workspace. Without any doubt, one of the most useful one is being able to see instantly who is online and who is not. When you send an email, you never know how long it is going to take the other person to respond. That person might be even away for a few days, and you will never know about it sitting in your office hoping to receive a response the same day.
Another useful feature is the calendar. Thanks to the calendar, I can mark all the important events such as all the deadlines as well as many other things that are of some sort of importance like for example on which days I would like others to work.
I would like to tell you that the workspace platform at Glasscubes is very easy to use and very intuitive. The moment I created my free account, a useful tutorial greeted me and explained everything I needed to know to get started. There are still so many features that I haven't discovered and I feel like I have just barely scratched the tip of the iceberg here. I look forward to exploring more of what the platform has to offer so that I can fully use it to my advantage.